WHAT IS THE NINEBOT MAX G30?
The Ninebot MAX is Segway-Ninebot newest electric scooter. A brand known for their quality and innovative E-transportation. Within Europe these electric scooters have made an enormous impact on the market, making it almost impossible to not, come across one or another in big cities such as Paris, Brussels, and Barcelona.
MORE POWER AND LONGER DISTANCE
The Ninebot MAX G30 comes equipped with a powerful 350 watt motor located in the rear wheel meaning the MAX has roughly got a 40% increase in power compared to his older brothers. This bigger engine will allow you to pull away even faster and reach it's top speed of 30km/h. The scooter has the same starting mechanism as before, requiring you to give it a little push-start yourself before pressing the throttle. Because of it's relatively powerful engine compared to predecessors, the MAX G30 will allow you to conquer slopes up to 20% instead of 10%.
Segway's MAX comes with a 551Wh battery allowing you to travel up to 65 km on a single charge. This means you will no longer have to worry about reaching your final destination or not, as you undoubtedly will. Besides that, the scooter has an integrated 3A quick-charger, which can even charge up to 5A when connected with the second external charger-port. Because the quick-charger is integrated you won't have to use a regular charger anymore, just the cable, with this you can charge your scooter back to 100% within the blink of an eye. The integrated charger and bigger battery do however make the Ninebot MAX a tad heavier than the rest of the family, weighing in at a respectable 21 kg.
LCD DISPLAY
The LCD display of the Ninebot MAX G30 comes with a multifunctional display, providing you with no less than 4 options to choose from:
ECO for an economical, energy-efficient drive
D for Standard
S for Sport
And a fourth setting providing power-support while walking.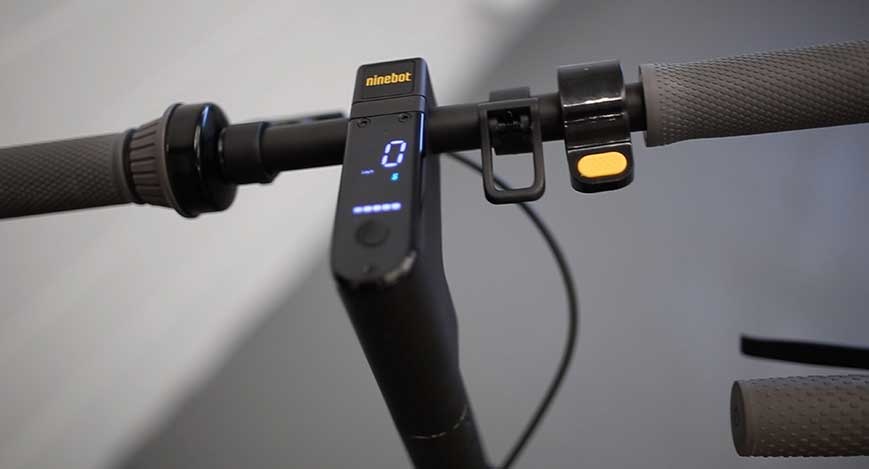 SAFETY IN THE DARK
The Ninebot MAX comes complete with front and rear lighting & reflectors, making the user visible even at low light conditions. Furthermore, The G30 model has a built-in bell making it easy to notify other people of your passing by. After reaching your destination you can easily fold the MAX G30 in a matter of seconds and proceed to take him with you either by hand or automobile/public transportation.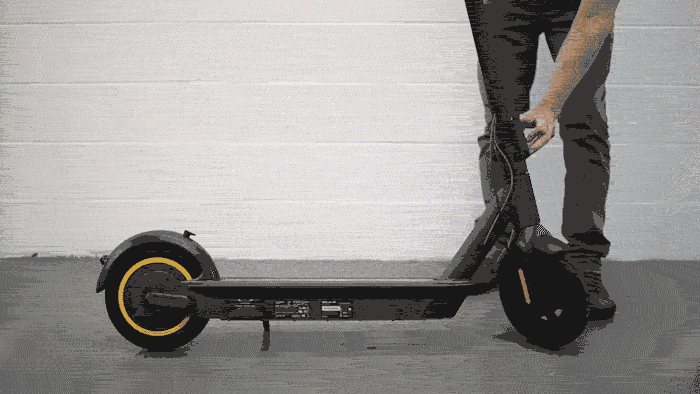 ANTI-FLATS
The 10 inch Tubeless anti-flat air-filled tyres make riding the Ninebot MAX a real pleasure, as it cruises around any type of road with extreme ease and comfort, and you never have to worry about getting a flat along the way. Altogether this makes the Ninebot MAX the best of both worlds combined, as it has the favored Xiaomi air-filled tyres, and the power and looks of a fresh new Segway product.